Our premium turkeys are tender, juicy and yet affordable. They are shipped to meet your delivery requirements, and provide a level of USDA Grade "A" quality that you can give with pride. Since 1894, we have built our reputation on this unmatched combination of quality and dependability.
For over 100 years, our Chef's Pride premium turkeys have been enjoyed for their tenderness and juicy flavor. Individually gift boxed, Chef's Pride turkeys have been the centerpiece of millions of holiday gatherings, clearly making it our most popular gift item. Our turkeys make great employee appreciation or customer thank you gifts.
All Chef's Pride turkeys are individually gift boxed for easy handling.
NOTE: Individually boxed turkeys are not available in all markets.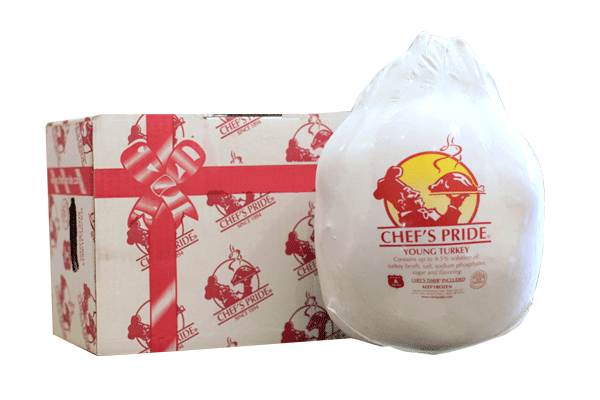 Sizes: 10# average, 11# average, 12# average, 13# average, and so on, all the way to 25# average.

Request Quote
Chef's Pride Quality
USDA Grade A, the government's highest quality rating
Individually gift boxed for easy handling and distribution (may not be available in some areas)
Uniform size - within 15 ounces - ensures recipients receive same size turkey
"Chef's Timer" pop-up cooking gauge for guaranteed cooking perfection
Specially bred, large breasted and small boned to yield more meat per pound
Self basting to ensure juicy and tender flavor
Flash frozen and instantly vacuum sealed to preserve fresh flavor
Cooking instructions and nutritional information on each package
As always, our products are delivered to your company on the day you specify (some limitations may be applicable depending on location).
Please let us know how we can help your company set a BIG impression on associates and clients by giving them the famous Chef's Pride individually gift boxed turkey.